2018 NIC 10 Wrestling Championships
  Team			Points
1 Hononegah 		255.5
2 Rockford East 	169.0
3 Freeport 		140.0
4 Belvidere North 	118.0
5 Harlem 		108.0
6 Belvidere 		 69.5
7 Rockford Guilford	 47.0
8 Rockford Boylan 	 45.5
9 Rockford Jefferson 	 43.0
10 Rockford Auburn 	 21.0

(1-17-18) Hononegah won the 2018 NIC 10 Wrestling Championship easily outdistancing East 255.5 to 169.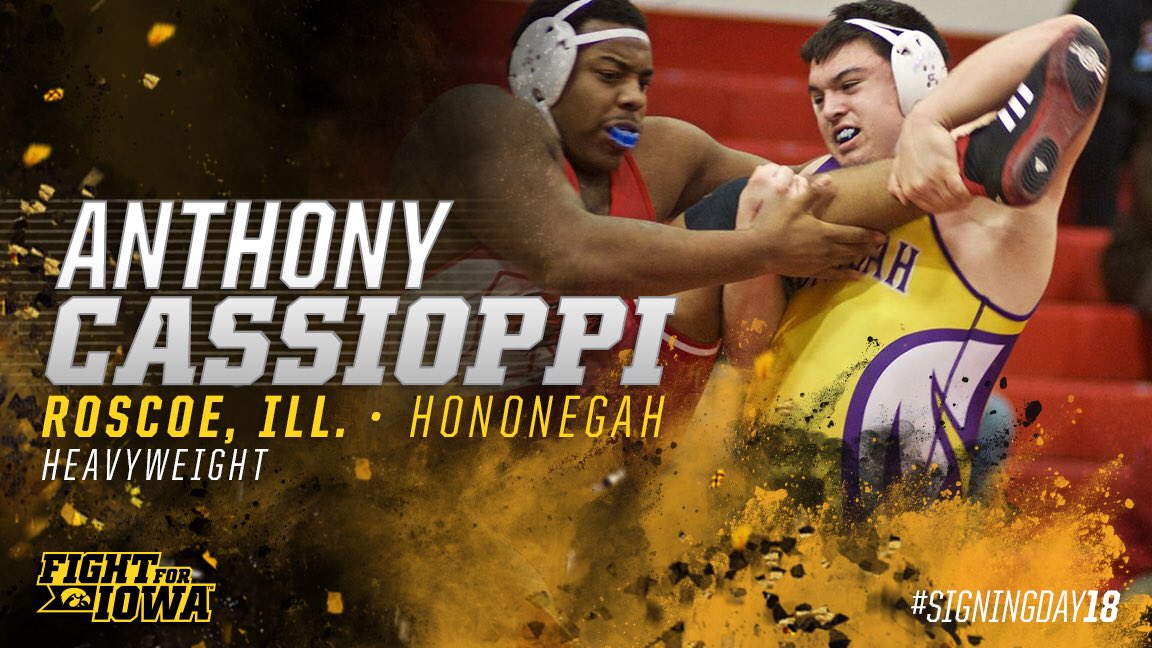 The Indians were led by Iowa commit Anthony Cassioppi (Sr) who beat  East's Aydin Guttridge (Jr) 32-7, Jr. in a fall (1:48). Cassioopi continues with a perfect 35-0 record.
On the day six other Hononegah wrestlers picked up championships.
126 – Joshua Rydberg
138 – Mason Schewe
145 – Casey Sauter
152 – Giovanni Cassioppi
160 – Dominic Ballano
195 – James Bowers
106
1st Place – Malakye Rodriguez of Belvidere (North)
2nd Place – Saw Htoo of Rockford (East)
3rd Place – Ethan Wilk of Rockton (Hononegah)
4th Place – Mya Turnmire of Machesney Park Harlem
5th Place – Shawn Carmichael of Rockford (Guilford)
6th Place – Alex Love of Freeport (H.S.)
1st Place Match
Malakye Rodriguez (Belvidere (North)) 31-2, So. over Saw Htoo (Rockford (East)) 30-9, Jr. (Dec 9-5)
3rd Place Match
Ethan Wilk (Rockton (Hononegah)) 14-18, Fr. over Mya Turnmire (Machesney Park Harlem) 7-21, So. (Fall 0:47)
5th Place Match
Shawn Carmichael (Rockford (Guilford)) 10-7, So. over Alex Love (Freeport (H.S.)) 12-5, So. (Fall 1:35)
113
1st Place – Presley Beasley of Belvidere (H.S.)
2nd Place – Jevon Doke of Machesney Park Harlem
3rd Place – Riley Stonitsch of Rockford (Guilford)
4th Place – Brandon Kuri of Rockford (East)
5th Place – Trevor Diemel of Rockton (Hononegah)
1st Place Match
Presley Beasley (Belvidere (H.S.)) 25-5, So. over Jevon Doke (Machesney Park Harlem) 26-10, So. (Fall 3:28)
3rd Place Match
Riley Stonitsch (Rockford (Guilford)) 19-6, Sr. over Brandon Kuri (Rockford (East)) 22-11, Sr. (Fall 4:46)
5th Place Match
Trevor Diemel (Rockton (Hononegah)) 5-9, So. over () , . (Bye)
120
1st Place – Dathan Wickson of Rockford (Boylan Catholic)
2nd Place – Yaslam Ali of Rockford (East)
3rd Place – Zach Fausel of Rockton (Hononegah)
4th Place – Ian Marfgraff of Machesney Park Harlem
5th Place – Chakotay Keosuriya of Rockford (Jefferson)
6th Place – KK Collier of Freeport (H.S.)
1st Place Match
Dathan Wickson (Rockford (Boylan Catholic)) 16-7, . over Yaslam Ali (Rockford (East)) 17-14, So. (Fall 4:30)
3rd Place Match
Zach Fausel (Rockton (Hononegah)) 4-1, Jr. over Ian Marfgraff (Machesney Park Harlem) 13-12, So. (Fall 0:46)
5th Place Match
Chakotay Keosuriya (Rockford (Jefferson)) 14-6, Jr. over KK Collier (Freeport (H.S.)) 4-12, Fr. (Fall 0:16)
126
1st Place – Joshua Rydberg of Rockton (Hononegah)
2nd Place – Issac Hernandez of Belvidere (North)
3rd Place – Joe Kucher of Machesney Park Harlem
4th Place – Nathan Hills of Rockford (Boylan Catholic)
5th Place – Shoaib Rahimi of Rockford (East)
6th Place – Ricardo Ortiz of Rockford (Jefferson)
1st Place Match
Joshua Rydberg (Rockton (Hononegah)) 16-8, Jr. over Issac Hernandez (Belvidere (North)) 25-7, Jr. (MD 13-4)
3rd Place Match
Joe Kucher (Machesney Park Harlem) 13-14, So. over Nathan Hills (Rockford (Boylan Catholic)) 12-10, Sr. (Fall 4:28)
5th Place Match
Shoaib Rahimi (Rockford (East)) 7-10, So. over Ricardo Ortiz (Rockford (Jefferson)) 6-10, Fr. (Fall 0:52)
132
1st Place – Dontrell Johnson of Rockford (East)
2nd Place – Keondre Jackson of Freeport (H.S.)
3rd Place – Cody Cazel of Rockton (Hononegah)
4th Place – Kyetin Lindquist of Machesney Park Harlem
5th Place – Kevin Pierce of Rockford (Jefferson)
6th Place – Chris Jarka of Belvidere (North)
1st Place Match
Dontrell Johnson (Rockford (East)) 36-4, Sr. over Keondre Jackson (Freeport (H.S.)) 19-14, So. (Dec 24-17)
3rd Place Match
Cody Cazel (Rockton (Hononegah)) 21-13, Sr. over Kyetin Lindquist (Machesney Park Harlem) 22-14, So. (Fall 1:56)
5th Place Match
Kevin Pierce (Rockford (Jefferson)) 13-10, So. over Chris Jarka (Belvidere (North)) 25-15, Jr. (M. For.)
138
1st Place – Mason Schewe of Rockton (Hononegah)
2nd Place – Andrew Schwartz of Rockford (Auburn)
3rd Place – Carson Olofson of Rockford (East)
4th Place – Devin Diveley of Belvidere (North)
5th Place – Owen Babcock of Machesney Park Harlem
6th Place – Mitch Panzke of Belvidere (H.S.)
1st Place Match
Mason Schewe (Rockton (Hononegah)) 22-7, Sr. over Andrew Schwartz (Rockford (Auburn)) 20-6, . (MD 14-1)
3rd Place Match
Carson Olofson (Rockford (East)) 27-10, Jr. over Devin Diveley (Belvidere (North)) 14-9, Fr. (Dec 9-4)
5th Place Match
Owen Babcock (Machesney Park Harlem) 9-12, So. over Mitch Panzke (Belvidere (H.S.)) 21-13, Sr. (Inj. 0:00)
145
1st Place – Casey Sauter of Rockton (Hononegah)
2nd Place – Preston Schuelke of Machesney Park Harlem
3rd Place – Brayden Payne of Belvidere (North)
4th Place – Lucas Shippert of Freeport (H.S.)
5th Place – Dan Haley of Rockford (East)
6th Place – Dylan Connors of Rockford (Jefferson)
1st Place Match
Casey Sauter (Rockton (Hononegah)) 17-15, Sr. over Preston Schuelke (Machesney Park Harlem) 24-5, Jr. (Dec 1-0)
3rd Place Match
Brayden Payne (Belvidere (North)) 15-9, Sr. over Lucas Shippert (Freeport (H.S.)) 17-11, Sr. (Fall 2:46)
5th Place Match
Dan Haley (Rockford (East)) 17-18, Jr. over Dylan Connors (Rockford (Jefferson)) 5-13, Fr. (Fall 1:53)
152
1st Place – Giovanni Cassioppi of Rockton (Hononegah)
2nd Place – Chad Richards of Machesney Park Harlem
3rd Place – Nolan Scherer of Rockford (Boylan Catholic)
4th Place – Tayvius Sanders of Belvidere (H.S.)
5th Place – Soe Lwin of Rockford (East)
6th Place – Vu Tran of Rockford (Guilford)
1st Place Match
Giovanni Cassioppi (Rockton (Hononegah)) 32-6, Jr. over Chad Richards (Machesney Park Harlem) 32-4, So. (Dec 5-0)
3rd Place Match
Nolan Scherer (Rockford (Boylan Catholic)) 10-12, . over Tayvius Sanders (Belvidere (H.S.)) 12-23, Jr. (SV-1 3-1)
5th Place Match
Soe Lwin (Rockford (East)) 10-14, Jr. over Vu Tran (Rockford (Guilford)) 4-10, So. (Fall 1:07)
160
1st Place – Dominic Ballano of Rockton (Hononegah)
2nd Place – Sean Lock of Belvidere (North)
3rd Place – Brycen Travis of Freeport (H.S.)
4th Place – Brandt Hixson of Machesney Park Harlem
5th Place – Jason Buais of Rockford (East)
6th Place – Chad Blackburn of Rockford (Guilford)
1st Place Match
Dominic Ballano (Rockton (Hononegah)) 23-13, Sr. over Sean Lock (Belvidere (North)) 13-1, Sr. (Dec 5-3)
3rd Place Match
Brycen Travis (Freeport (H.S.)) 11-13, Sr. over Brandt Hixson (Machesney Park Harlem) 6-4, So. (Fall 4:48)
5th Place Match
Jason Buais (Rockford (East)) 13-12, Jr. over Chad Blackburn (Rockford (Guilford)) 18-9, Sr. (M. For.)
170
1st Place – Major Dedmond of Freeport (H.S.)
2nd Place – Glenn Winchel of Belvidere (H.S.)
3rd Place – Ben Zalapi of Rockton (Hononegah)
4th Place – Carter Wyatt of Rockford (East)
5th Place – Dontay Leonard of Rockford (Jefferson)
6th Place – Riley Derry of Machesney Park Harlem
1st Place Match
Major Dedmond (Freeport (H.S.)) 33-2, Jr. over Glenn Winchel (Belvidere (H.S.)) 14-10, Jr. (Fall 1:55)
3rd Place Match
Ben Zalapi (Rockton (Hononegah)) 22-15, Jr. over Carter Wyatt (Rockford (East)) 16-8, So. (Fall 1:09)
5th Place Match
Dontay Leonard (Rockford (Jefferson)) 7-11, Sr. over Riley Derry (Machesney Park Harlem) 12-15, So. (Inj. 0:00)
182
1st Place – Matthew Chavers of Freeport (H.S.)
2nd Place – Tony Figueroa of Rockton (Hononegah)
3rd Place – Alvin Maten of Rockford (Jefferson)
4th Place – Zander Guttridge of Rockford (East)
5th Place – Collin Howe of Machesney Park Harlem
6th Place – Armando Luna of Rockford (Guilford)
1st Place Match
Matthew Chavers (Freeport (H.S.)) 33-3, So. over Tony Figueroa (Rockton (Hononegah)) 11-5, Fr. (Dec 13-11)
3rd Place Match
Alvin Maten (Rockford (Jefferson)) 12-9, So. over Zander Guttridge (Rockford (East)) 15-18, Fr. (Inj. 2:09)
5th Place Match
Collin Howe (Machesney Park Harlem) 13-21, Sr. over Armando Luna (Rockford (Guilford)) 5-5, Sr. (Fall 5:32)
195
1st Place – James Bowers of Rockton (Hononegah)
2nd Place – Trae McClain of Freeport (H.S.)
3rd Place – Alijah Knutsson of Rockford (East)
4th Place – Ahmad Shiekhali of Belvidere (North)
5th Place – Antonio Avila of Rockford (Guilford)
6th Place – Greg North of Rockford (Auburn)
1st Place Match
James Bowers (Rockton (Hononegah)) 22-12, Jr. over Trae McClain (Freeport (H.S.)) 8-8, Sr. (Dec 7-4)
3rd Place Match
Alijah Knutsson (Rockford (East)) 3-1, Sr. over Ahmad Shiekhali (Belvidere (North)) 12-15, So. (Fall 1:28)
5th Place Match
Antonio Avila (Rockford (Guilford)) 12-11, Jr. over Greg North (Rockford (Auburn)) 2-8, . (Fall 1:33)
220
1st Place – Trever Dawson of Belvidere (North)
2nd Place – Nate Kaiser of Rockton (Hononegah)
3rd Place – Marvin Monroe of Freeport (H.S.)
4th Place – Josh Garcia-Sanchez of Belvidere (H.S.)
5th Place – Adrian Gutierrez of Rockford (East)
1st Place Match
Trever Dawson (Belvidere (North)) 23-7, So. over Nate Kaiser (Rockton (Hononegah)) 19-14, Sr. (Fall 0:38)
3rd Place Match
Marvin Monroe (Freeport (H.S.)) 10-5, So. over Josh Garcia-Sanchez (Belvidere (H.S.)) 6-7, So. (Fall 3:06)
5th Place Match
Adrian Gutierrez (Rockford (East)) 2-2, Sr. over () , . (Bye)
285
1st Place – Anthony Cassioppi of Rockton (Hononegah)
2nd Place – Aydin Guttridge of Rockford (East)
3rd Place – Isaiah Batteast of Freeport (H.S.)
4th Place – Jaylin Jones of Rockford (Guilford)
5th Place – Josue Pizano of Belvidere (H.S.)
1st Place Match
Anthony Cassioppi (Rockton (Hononegah)) 35-0, Sr. over Aydin Guttridge (Rockford (East)) 32-7, Jr. (Fall 1:48)
3rd Place Match
Isaiah Batteast (Freeport (H.S.)) 20-9, So. over Jaylin Jones (Rockford (Guilford)) 12-6, Sr. (Inj. 0:00)
5th Place Match
Josue Pizano (Belvidere (H.S.)) 8-13, Fr. over () , . (Bye)