(10-4-20) With 390 teams entered, the matchups for the 49th Annual IHSAA Volleyball State Tournament were announced this evening. Indiana does not have a seeding system, it is always a blind draw. So the draws are a highlight of the tournament.
About the Draw – To conduct the random drawing for the volleyball state tournament, the IHSAA places ping-pong balls representing each school in a given sectional into a lottery-style air mix machine. A fan in the bottom of the machine blows the balls around the inside of the transparent container and air then forces each ball up through a tube in random order. For example, the first ball retrieved from the machine will be the visiting team in match one with the second ball representing the home team in match one. The third ball to come out is the visitor in match two and the fourth ball the home team in match two. That same method is followed through all 64 sectionals and 16 regionals.
Dates: Oct. 13, 15, 17, 2020.
Admission: $6 per session
Five Stateline are teams found out tonight who they will play.
In the Class 3A Sectional at Delta, powerhouse Bellmont gets a 1st round bye in the bottom bracket and will play the winner of the Heritage Muncie Burris match.
In the top bracket Jay County will play Norwell, with the winner playing the host school Delta.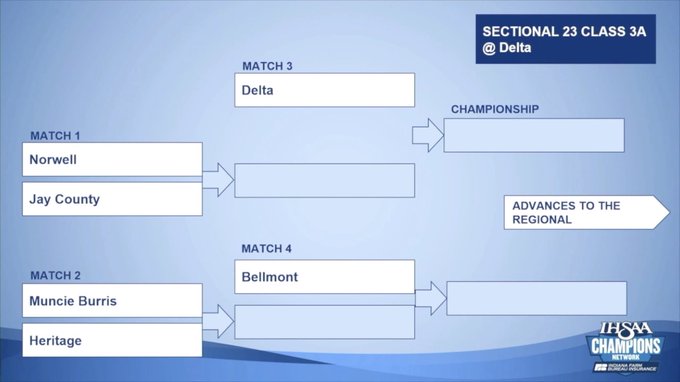 In the Class 2A Sectional at Bluffton, seven schools will compete. In the top bracket the Adams Central-Ft. Wayne Canterbury winner will play Wabash.
In the bottom brackets Whitko will play Bluffton the host school, Manchester will play South Adams…the two winners will play to move on.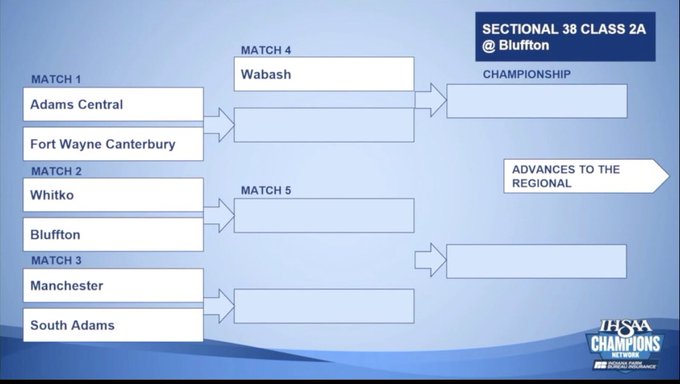 Union City will compete at the Class A Blur River Valley Sectional and the Indians get the bye and will play the winner of the Lincoln-Randolph Southern match.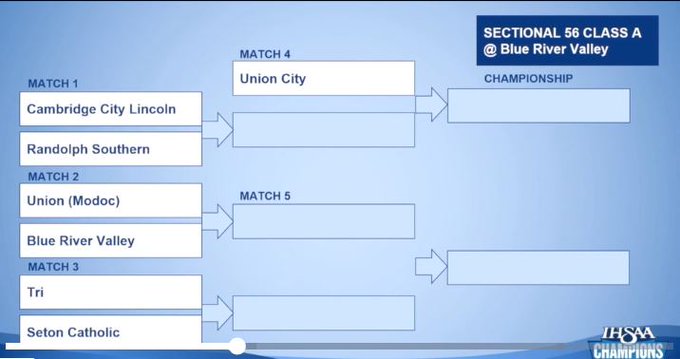 In the Class 2A Sectional at Fairfield, Eastside will play Prairie Heights, the winner will get Churubusco.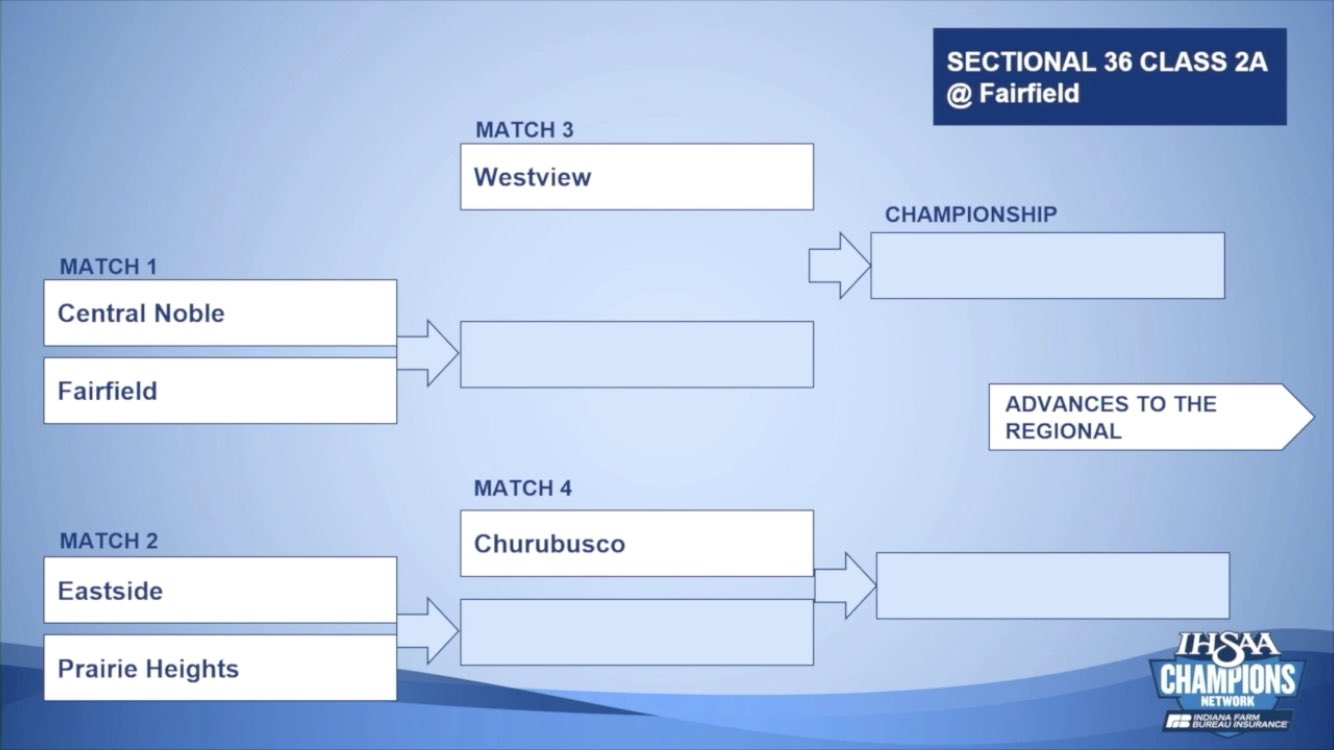 CHECK out the Brackets – Complete IHSAA Draw
An in-depth look –
Schools Entered: 390 schools. 386 matches will be played over the four-week tournament.
Last Year's Sectional Champions
4A: Avon, Carroll (Fort Wayne), Castle, Center Grove, Columbus East Crown Point, Hamilton Southeastern, Homestead, Indianapolis Cathedral, LaPorte, McCutcheon, Munster, New Castle, Penn, Providence, Roncalli.
3A: Angola, Bellmont, Brebeuf Jesuit, Brownstown Central, Evansville Memorial, Griffith, Kankakee Valley, Lawrenceburg, New Prairie, Northwestern, NorthWood, Silver Creek, Speedway, Tri-West Hendricks, Vincennes Lincoln, West Lafayette.
2A: Andrean, Barr-Reeve, Boone Grove, Fairfield, Hagerstown, Henryville, Heritage Christian, Indianapolis Scecina, North Decatur, Rochester, Seeger, Southmont, Tecumseh, Tipton, Wabash, Wapahani.
A: Bloomfield, Blue River Valley, Covington, Cowan, Hauser, Indianapolis Lutheran, International, Lakewood Park Christian, Loogootee, Morgan Township, Pioneer, Rock Creek Academy, South Newton, Springs Valley, Trinity Lutheran, Triton.
Active Consecutive Tournament Win Streaks 21: New Castle. 7: Brownstown Central, Cowan, Heritage Christian.
Most Consecutive Sectional Championships 26 by Castle (1994-current).
Active Sectional Championship Streaks (Three or more years) 26: Castle. 19: Avon. 15: Bellmont. 14: Pioneer. 11: Carroll (Fort Wayne). 10: Hauser. 9: Providence. 6: Trinity Lutheran. 5: Center Grove, Covington, Morgan Township. 4: Andrean, Hagerstown. 3: Barr-Reeve, Cowan, Griffith, Heritage Christian, Indianapolis Lutheran, New Castle, North Decatur, Northwestern, Penn, Rock Creek, Roncalli, Silver Creek.
Top 10 All-Time Sectional Championships 38: Castle, Jasper. 36: Bellmont. 35: Evansville Mater Dei. 34: Providence. 31: Carmel, Center Grove. 29: Muncie Burris. 28: New Castle, Roncalli.
Schools Playing Up One Class due to Tournament Success Factor Barr-Reeve (Class 2A, Sectional 47 at Eastern Greene). Christian Academy of Indiana (Class 3A, Sectional 30 at Silver Creek). New Castle (Class 4A, Sectional 9 at New Castle).
Schools Remaining in Higher Class due to Tournament Success Factor Providence (Class 4A, Sectional 15 at Jennings County). Yorktown (Class 4A, Sectional 9 at New Castle).