(1-24-21) Stateline area (Ohio and Indiana) girls high school basketball player highlights for the week of 1-16-21.
OHIO
Coldwater – Riley Rismiller had 27 points and 16 rebounds vs. Spencerville
New Knoxville — Morgan Leffel scored 28 points vs. Lima Senior
Kalida – Grace Klausing scored 25 points with six steals and six rebounds vs. Ayersville
Ottawa-Glandorf – Chloee Glenn scored 16 points, 11rebounds and 4 steals vs. Celina
Yellow Springs – Angie Smith– 25 points, 9 rebounds and 6 assists vs. Greenon
1,000th Career Points
Spencerville – Emma Leis school career assist record this with 268 vs. Bluffton…later this week she scored scores 13 points to score her 1,000th career point
Arcanum – Hailey Unger scored her 1000th point
Was this necessary?
Tecumseh 103 Springfield Shawnee 5
INDIANA
Oak Hill – Kate Hornocker a game and season high 16 points with 16 rebounds, 5 steals and 2 block shots vs. North Miami
New Haven – A'varcia Nard scored 15points with 11rebounds vs. Heritage
Jay County – Renna Schweiterman sets a school record scoring 43 points and adds , 9 rebounds, 5 assists, and 6 steals vs. Southern Wells
Culver – Maddie Shedrow had 32 points and 21 rebounds in win over South Bend Career Academy
Pioneer – Hailey Cripe scored 26 points vs. West Central, scored 28 points vs. Peru and scored 27 points vs. John Glenn
Argos- Lizzy Edmonds had 14 points and 10 rebounds for vs. Bremen
Northwestern – McKenna Layden scored a career-best 36 points, 12 rebounds, 6 assists and 5 steals vs. West Lafayette
Union City – Mariah Claywell scored 23 points with 12 rebounds and 5 steals over Mississinawa Valley, added 15 points to go with 7 rebounds and 6 steals vs. Bluffton, plus 11 points, 12 rebounds and 8 assists vs. Wapahani
Carroll – Alli Harness scored 30 points with 9 rebounds and 7 assists
RECORD BREAKERS
3 Point FG Record
Twin Lakes – Olivia Nickerson (Freshman) broke school record for made 3 pointers in a season with 79
1,000th Career Points
Ft. Wayne Northrop – TiAuna White scored 1,000th career point earlier this week, scored 28 points vs. Elkhart on Saturday
All-Time IHSAA Career Scoring List
Bishop Noll – Courtney Blakely led the team with 29 points vs. Penn to surpass 2,200 career points and advance to 21st all-time in IHSAA history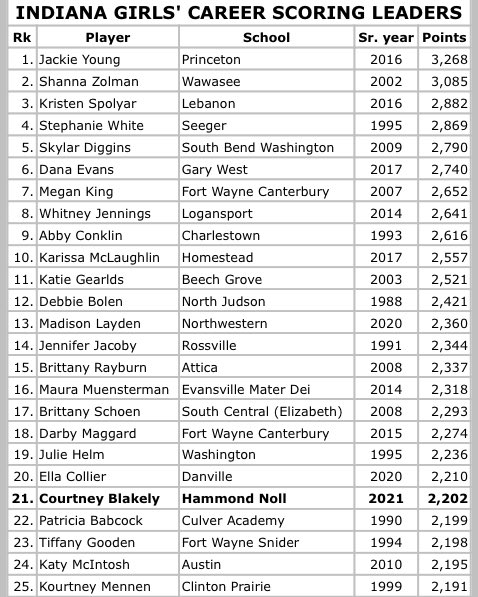 North Judson – Lilliann Frasure scored 50 points, including 12 3-pointers vs. Winamc and became the 50th Indiana girl to reach 2,000 career points and now has 2,033, 41st on the all-time list.
Winning Streak
Penn 67 Elkhart 22 – Kingsmen win fourth consecutive NIC Championship and extends NIC win streak to 46 games.