(11-18-20) Here we go again..COVID 19 has decided to impact the upcoming basketball season in Ohio and other regional states.
While the Governor and the OHSAA discuss what will take place this winter, schools have already decided to cancel some tournaments, go on a pause (Like TPS) or have games canceled due to COVID 19 concerns and an opponent quarantining a team at the last minute. Sound familiar…yep!
According to Lt. Governor Jon Husted he met yesterday with OHSAA officials to discuss the current situation…no word on what developed from the meeting. The OHSAA also is finishing up a questionnaire that was sent to school district officials on their thoughts of continuing the winter sports season.
Around the region…
Yesterday…it looks like Illinois Gov. JB Pritzker's order will be followed by the the IHSA to halt all indoor sports. Earlier this month the association had informed member schools to move forward with the season, despite an order from the Governor to stop. The Governor threatened legal actions for school districts who went against his order.
Later in the day it was learned that none of the Governor's staff would attend Thursday's IHSA Board meeting for discussion on the winter sport season after being invited to attend…'to busy to make time'.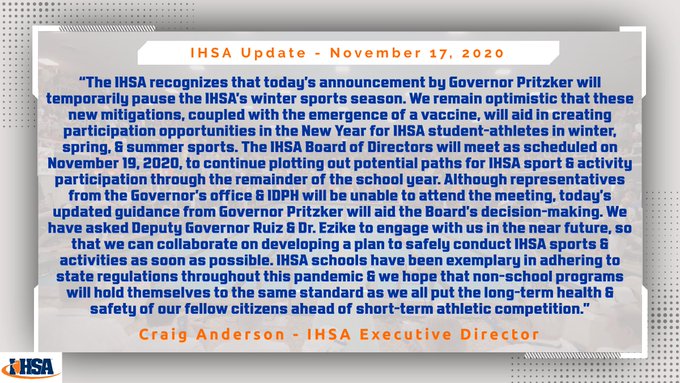 Illinois did not have football, soccer or volleyball competition this fall, plans call for those to happen in the spring.
This past weekend Michigan Governor Gretchen Whitmer issued an order that would suspend the (already in progress) football and volleyball plauoffs and not allow teams to continue to prepare for the winter sports season.
Neighboring Indiana is already in progress with girls basketball and has already seen last minute cancellations of games and teams being quarantined. To this point in time no talks have been held on stopping the winter sports season.