(8-3-20) Another major Ohio city school system, the Cincinnati Public Schools, has decided to pause athletics to start the 2020-21 school year.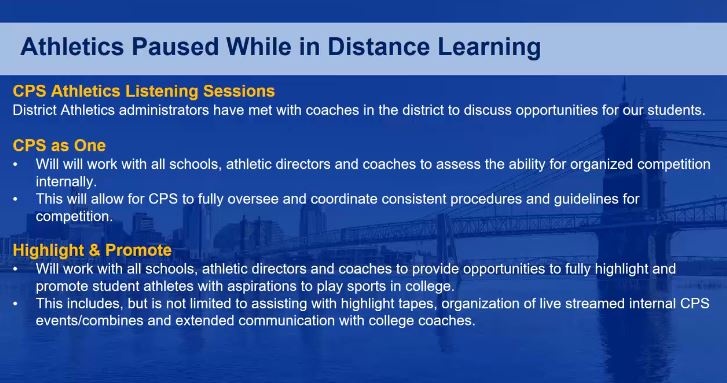 Tonight at Cincinnati Public Schools Board of Education implemented a distance learning plan (first 5 weeks of the school year with the possibility of being extended).
Superintendent Laura Mitchell
"Distance learning is not how students, families, or staff hoped to start the year. We all know that in-classroom learning is best for most students academically, socially, and emotionally. While we have seen early signs of improvement, current transmission and positivity rates are too high to ensure the safety of our students and staff. We hope with the commitment of the community to further reduce the spread of the virus, and sustain that reduction, we will see our students in our buildings on September 28. We are prepared for all learning models — distance, blended, and fully in person — and know we must all be agile and flexible during the 2020–2021 academic year."
CPS join the Cleveland, Dayton and Toledo school districts for putting fall sports on hold.
Fall Sports Is Entering 'The Twilight Zone'…New Storyline Added
With no announcement from the Governor's office again today about the COVID 19 testing requirement…the OHSAA now sees school districts not waiting to see what will take place and dropping fall sports.
….