(5-20-21) The Ohio High School Wrestling Coaches Association tweeted yesterday on girls wrestling not being sanctioned this coming year –
Our association is disappointed in this decision but we are steadfast in our support of girls wrestlers and the sanctioning of girls wrestling in Ohio.
From #SanctionOH Girls Wrestling Twitter page –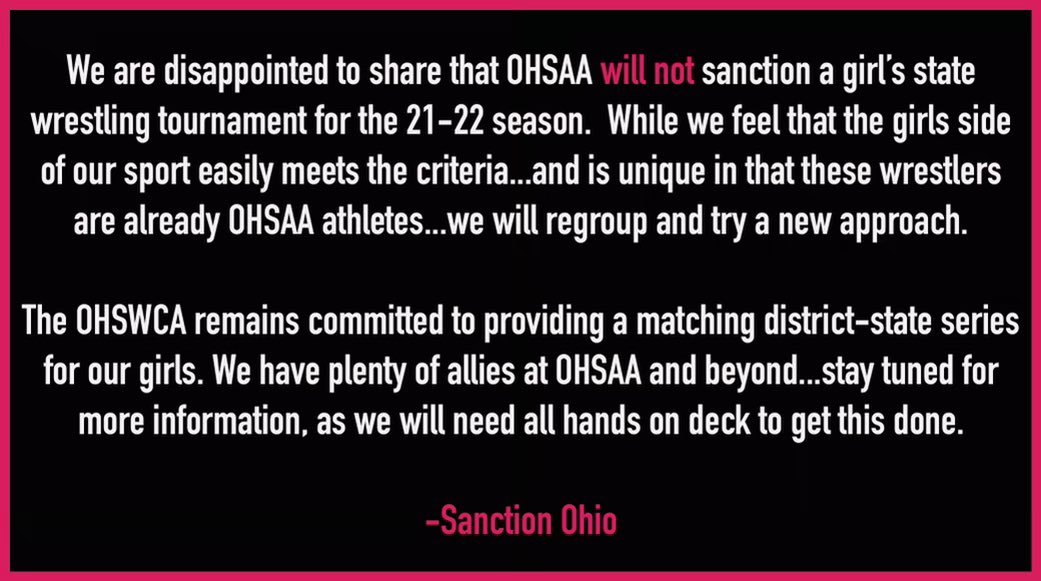 The announcement was met with disappointment –
This winter…the OHSWCA Girls State Wrestling Tournament was held for the 2nd year on Feb. 20, 2021, at Hilliard Davidson High School. Despite the pandemic, the meet was a success and many thought it would be more then enough to get the sport sanctioned.
Before the State meet in February Chaminade Julienne Girls Wrestling coach coach Britney Carrington told the Dayton Daily News why the effort to sanction girls wrestling was so important –
"All hands on deck trying to get this movement going. We're continuing to try and make this push so girls have more opportunities for sports. I have college coaches emailing me every week asking for juniors and seniors. They have scholarship money available. Just trying to get these girls mat time and experience."
Yesterday when it was announced that girls wrestling would not be sanctioned in Ohio… Nebraska voted to sanction girls wrestling in that state.
On May 6th, two weeks earlier…beginning with the 2021-22 school year, a championship division for female competitors who participate on the Michigan High School Athletic Association (MHSAA) member school teams will be added to the Individual Wrestling Tournament series. There will be 14 champions awarded, based on weight classes established by the National Federation of State High School Associations. Qualifiers will be determined via a sectional format, and girls will continue to compete on boys teams during regular-season and team tournament competition; girls also may choose to compete in the boys individual tournament instead of the girls bracket. A total of 401 girls competed in wrestling for MHSAA member schools during the 2019-20 school year, up from 250 in 2017-18 and then 327 in 2018-19. The girls division proposal had been put forth by the MHSAA Wrestling Committee.
According to the most recent NFHS High School Athletics Participation Survey, a total of 21,124 girls are involved in the sport in 2,890 schools and continues to grow.
No official announcement on the decision has been released by the OHSAA on why girls wrestling was not approved to bee sanctioned. The board did not meet in May and its next meeting is scheduled for June 8th.